I will design and 3D print your pony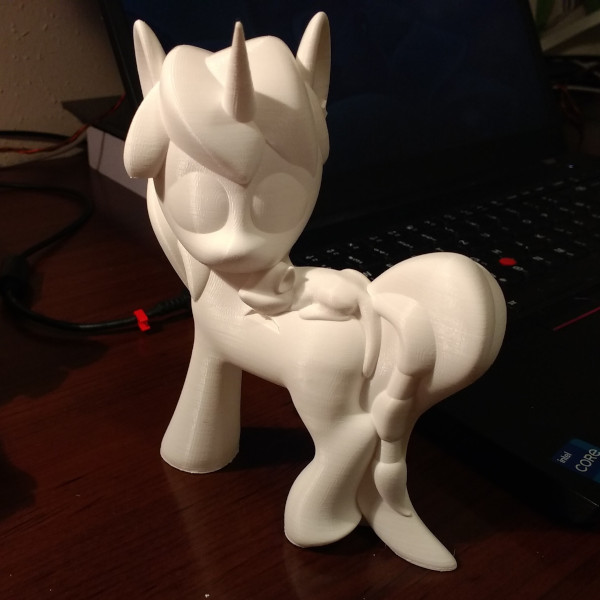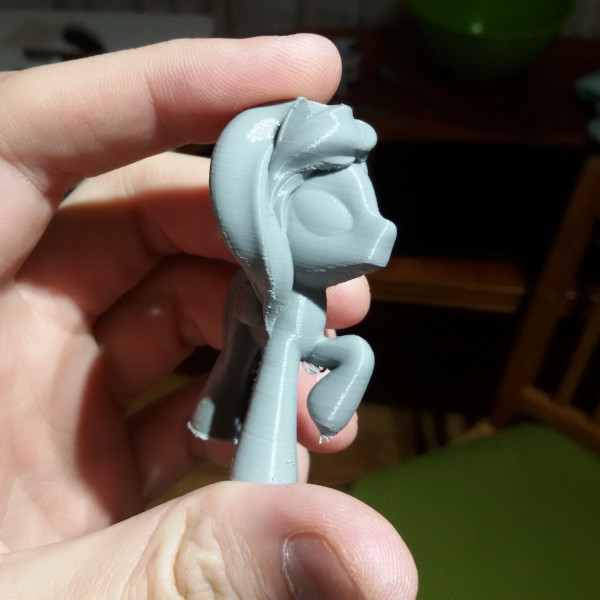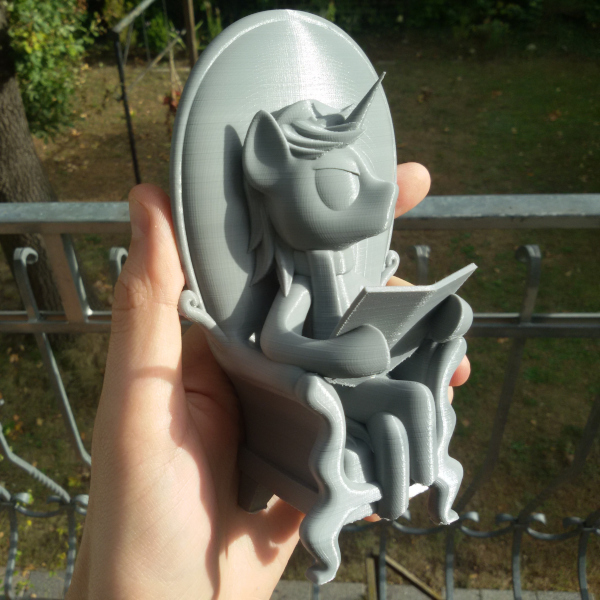 Literally just a plastic pony. This can be a final product, if you want. Or you could paint it. But before you paint it, I recommend spending a lot of time sanding and polishing it.
Starting prices for Modeling + 3D Printing:
Tiny (5cm, 2 inch) : starting at 60€
Small (8cm, 3 inch) : starting at 60€
Medium (15cm, 6 inch) : starting at 70€
Large (25cm, 10 inch) : starting at 80€
Huge (50cm, 20inch and up, only ships in Europe): starting at 120€
Again, price builds up depending on the details of your character.
Some examples of what could raise the price of modeling+printing:
Complicated pose +~25€
Complicated mane (braids etc.) +~30€
Spread wings +20€
Clothes +10€
Detachable accessory +~15€
The price of 3D printing includes me fixing the model if I find any problems.
There is of course no additional cost if I fail at printing and need to start over.
If you already have a digital 3D model ready, you will get a 50€ discount.

Shipping costs
I ship to most countries in the world. Shipping includes tracking information and insurance. Shipping cost depends on weight and destination country.

8€ - 22€ (depending on size, weight and destination country)
Payment
First payment: before modeling.
Second payment: before printing+shipping.
Alternatively, you can do the whole payment up front.
Currently I accept Paypal as the payment method. I will send you a paypal.me link.
The price will be in euro (€). Paypal will automatically convert this to let you pay in your own currency. Any and all customs related fees (import duties or tax) are the responsibility of the commissioner. I will not cover any unexpected customs fees.
Terms and conditions
Above prices are valid starting prices until a new pricelist is uploaded. Prices are subject to change. Prices are non-negotiable. Ordering a model identical to one I have 3D printed in the past, gives you a 50€ discount. There are no other discounts for ordering more than one figurine or model at the same time.
By commissioning me you are agreeing to my terms and conditions. Please read them carefully.